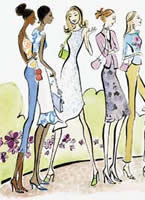 Some women's organizations are stalled. Others are growing like wildfire – and most any group can adopt their member-delighting methods, including yours. Hear how from Diane Danielson, CEO of the DowntownWomensClub.com. Later on, you'll hear from Beth Schoenfeldt, the co-founder of another rapidly-growing group, Ladies Who Launch.

In this flattening world both groups provide innovative ways for women to learn from each other and collaborate – to make work and life better together. Want to become more well-known for your expertise and find like-minded colleagues who may become clients and/or friends? Then consider providing your members some of the services these groups offer theirs. Perhaps a group to which you belong (or start) can adapt these benefits to meet your collective interests. Some of the "Me2We" services that DWC provides members are:
1. Operate With a Few Clear and Simple RulesDWC has just six – and they make sense.
2. High Tech/High Touch: Offer an online social network and an face-to-face community. Provide an interactive online member directory for easy-to-find member profiles via keyword searches. (Not blogging or chatrooms.)The aim is to forge and strengthen relationships amongst members where they discover sweet spots for mutual support and opportunity. As they quickly find each other online, their in-person DWC meetings are more meaningful and fun. Better than "just" randomly bumping into each other at networking events.
3. Create Profitable Spin-off ProductsSoftware invented for DWC (see #1) that can be sold to other organizations4. Two-Tier Membership to Pull in More Members FasterFor free, get one-way access to a lively blog/e-newsletter that includes tips, careerscopes, book recommendations and monthly calendar of DWC events near you. For a low annual fee ($50) get two-way engagement where one can:
• Get a welcome goodie bag (why don't more member groups do that?)
• Communicate with members online and at gatherings
• Hear teleclasses and "library" of past speakers' messages
• Get free and discounted products and services
• Join your "members-only" groups at Gather, LinkedIn and Facebook
• As a highlighted member (in interview, article, speech, etc.) your content (and, of course, you) will appear, not only on DWC sites, but at Gather and Facebook.
• Use the Job Board
• Start a local, sanctioned club in you area, if there isn't one.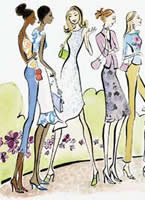 5. Captivating member interviewsYes, I know other groups have staff and guest writers who are professionals yet the freelancers at DWC have a light, sometimes humorous and to-the-point style that makes the interview fun and fast to read. Most contributors are well-educated, young entrepreneurs – like most of the members.
6. Partnerships to Offer Extra Member ValueAstrology.com offers Careerscopes to DWC members, for example. Many companies vie for visibility in front of members. They want the opportunity to give their products away or sell them at discounted prices. DWC's carefully positions these as relevant and valuable member benefits.
7. Blogroll ExchangesMembers who add the DWC newsletter or organization URL to their blog get their blog added to DWC's site and blog roll.