Opportunity Makers
Have Greater Impact, Meaning & Joy With Others
Have Greater Impact, Meaning & Joy With Others
It's no longer just what you know or who you know. Instead, it's who else wants to know you. In this new era where convergence and connectivity are vital, achieving success depends less on persuading or leading others and more on forging mutually beneficial ties that enable you to become the glue that attracts and keeps the right groups together. As the world flattens, power and responsibility are rapidly flowing from organizations to mutuality-minded individuals. As more people have the freedom to connect with anyone, no skill is more vital than the capacity to inspire others to want to work well together, and with you.
In this book you'll receive a 52-week Action Plan that you can use to become an Opportunity Maker. Steps include:

If you are arguing for more than ten minutes, then you may not be discussing the deeper, underlying conflict. Explore what that might be.
Offer verbal snapshots that penetrate the mind and the gut in an instant then linger, leaving a bright afterimage.
Reach out to talk with the person who is most ignored at a meeting, social mixer, or other gathering—especially when you are the center of attention—and you may cultivate an appreciative ally for life.
Since smell is the most directly emotional sense, bypassing much of the brain's thinking process, consider how to introduce positive, natural, and uplifting scents via your body and environments where others gather with you.
Highlights include:
Brevity is Usually Better
Label Whatever Matters to You
Use the Right Kind of Humor
Pull Others Into Your Stories and Build In Bragging Rights
Gain Greater Self-Clarity
Scale Your Capacity to Sway Others
… and in this edition, you will find this special bonus sections:
Twenty-three ways to attract serious buyers to your exhibit and to a sale at a convention
Tips on how meetings planners can make their conferences more meaningful and memorable
Thirty-eight negotiation tips to tip the scale toward better agreements
… and much, much more!
Customer Reviews:
"I've been following Kare Anderson's work for several years now. Her work is always to the point and leads the reader to look more deeply into how we engage with others. In this book, she emphasizes her message with stories that inspire us to think, to listen, to understand others and ourselves. There are exercises in the book about how we see ourselves, and aid in understanding how we are perceived by others. Of course, she doesn't stop there, Kare shares how we can learn to nurture a collective group of friends by sharing their stories, shining a light on their traits and gaining greater clarity of our own traits and how to collaborate to support each other, something that she has often spoken about. We create opportunity through our relationships, our mutuality mindsets (see her other books to learn more about this)." — Janet Fouts
"If you have an opportunity to read or listen to the gifted writer and speaker Kare Anderson, don't miss it!! She memorably and invariably conveys insights that are actionable, wrapped in expressions that will remain a part of your inner soundtrack. Every relationship can be understood and evaluated on the basis of how each person is serving the other. This is why, in Kare's words, mutuality matters. The result is something distinct, with its own rhythms, boundaries and possibilities. 'Opportunity Makers' become notably effective by serving others, thereby bringing out the best from everyone involved. Lest that sound "soft" or amorphous, Kare's personal experience at the top of her fields in journalism and business education keeps it down to earth, tested by experience and widely applicable. In sum, don't miss 'Opportunity Makers.' If you're like others among us, you'll soon enough be putting her ideas and observations to use, and will want to turn to her other books and blog posts and social media and speeches."— James Strock
"In Opportunity Makers, Kare Anderson offers wise, inspiring, and actionable guidance on achieving success together. In a world where it's easier than ever to connect with others, Her advice is both intelligent and relevant. If you want to proactively attract smart support, help others in ways that are mutually meaningful, build powerful and empowering teams, collectively seize opportunities, and much more, I recommend Kare's insightful work." — Dorie Clark
UPDATE: You can now buy Kare's book directly from this site! Click on "Add to Cart" and complete the transation process, and a PDF version of Kare's book will be emailed to you!
How You Can Create More Opportunity Adventure & Friendship With Others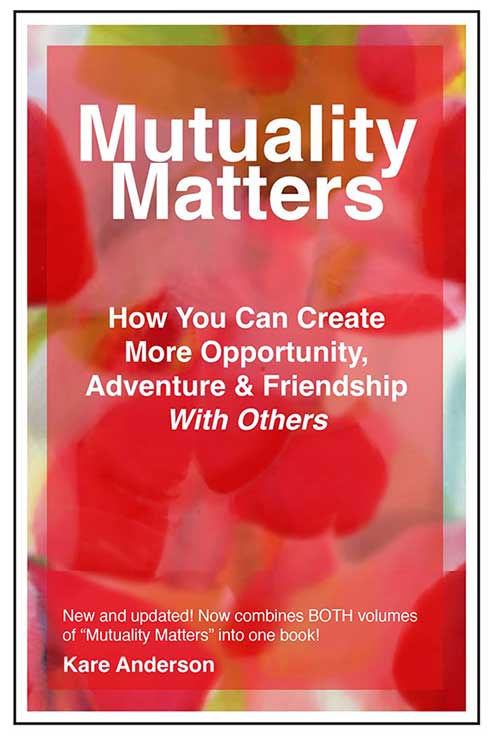 More than money, talent, or your number of contacts, your capacity to create mutuality with others can transform you into a sought-after Opportunity Maker with whom people most want to align. Be the glue that sticks the right teams together to solve problems or seize opportunities sooner and better together. Discover the key behaviors that enable you to accomplish greater things with others than you can on your own — and savor success together.
In this book you'll learn more than 140 methods to further expand your capacity to accomplish greater things with others, and savor shared success, including:
Over 40 specific ways to forge mutually beneficial relationships, as an individual or an organization
How to speak, write, move and appear to pull others closer and be frequently-quoted
Ways to turn friction and even attacks into opportunities to attract more allies and elevate the behavior of those around you
How to find and recruit the unexpected allies, and craft the optimal situation for your message to gain credibility, clout and media coverage
Highlights include:
The Higher the Tech, the Higher the Touch We Crave
Nudge Us to Do Better Together
Pull Us Toward Wanting it Too
Instill Bragging Rights That Boost Participation and Sharing
Cultivate an Us Attitude for Us
Share in Mutually Beneficial Ways
… and in this edition, you will find these special bonus sections:
Moving Through Your Year Into Deeper Mutuality: 52 Sayings for Weekly Practice With Others
More Resources for Your Mutuality Matters
Customer Reviews:
"What a wonderful book demonstrating the importance of mutuality and how this synergy can change our own lives as well as the lives of others in positive ways." — Douglas Glover
"Kare's work will guide you through insights about why and how a mutuality mindset can help bring out the better side of others and in you." — Shawn Murphy
"In addition to guidance in the book, Kare provides hints and tips of mutuality advice that can be applied the minute after reading." — Bryan Kramer
UPDATE: Kare's book is now available as a paperback! If you're "Old School" or you just like the feel of an ink & paper edition in your hands, click here to order it now from Amazon
Moving From Me to We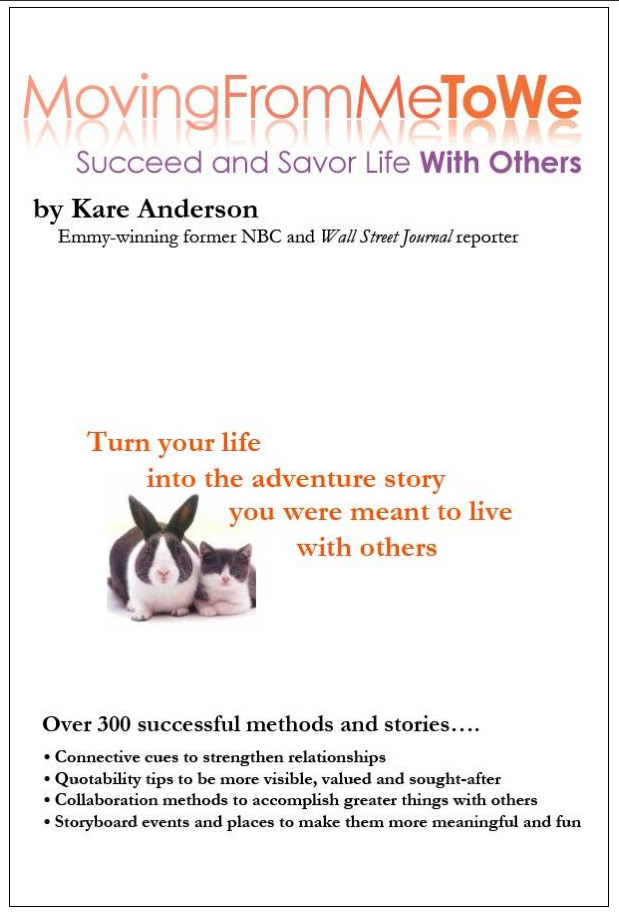 Stay sought-after, supported and well-known with insights from an Emmy-winning former Wall Street Journal and NBC journalist and author of Getting What You Want and Resolving Conflict Sooner.
Discover more than 300 concrete ways to become more likable, respected, and frequently quoted, plus related success stories and "what if" scenarios. See exactly how to pull people closer, attract smarter support sooner and productively collaborate. Kare has spent the past decade translating behavioral research into ways to accomplish greater things with others and savor your life.
More than 50,000 people have bought her earlier ebook Make Yourself Memorable, while more than 300,000 people have heard her speak.
Customer Reviews:
"Her latest work Moving From Me to We adds depth and power to her already valuable messages." — Jim Cathcart
"Just when you think you know it all Kare comes along with a unique perspective…" — Ted S. Gross
"I've been a fan of Kare's work for some time, via her blogs." — Ben Ziegler
"I continue learn from her with every single interaction" — Dan Keldsen
Order Kare's Book
Order the Kindle edition of Kare's book, Moving From Me to We, from Amazon.com
Order the iBook edition of Kare's book, Moving From Me to We, from iTunes