• "Bank fees are like financial wedgies."

• "One of the founding fathers of rock and roll has left the building he helped construct."

• "Eat food, not too much, mostly vegetables."
These colorful  one-liners are easy to remember because we immediately get a mental picture from the physical world.  Here's hints for honing your quotability, but first two pithy examples:
"Darlings, make blogs, not war."  ~  Adrianna Huffington's 2007 acceptance speech at the Webby awards. (Winners are limited to five words)
Asked to write a six-word short story, Ernest Hemingway gave us this poignant one, "For sale:  baby shoes, never used." In a time-starved world, brevity becomes popular.
To be more frequently-quoted, here's five tips: 
1. Be brief:  Calvin Coolidge ("Silent Cal"), was confronted by a woman at a White House dinner who exclaimed, "I bet my husband five dollars that I could get you to say more than three words." He replied, "You lost." Brevity forces you to choose your main point. The fewer the words the more clear and compelling your meaning can become.
2. Skip the distracting underbrush of opening qualifiers and boring background. Offer your best upfront. Then, as Renée Zellweger's character famously interrupted the courting Tom Cruise, (in the movie, Jerry Maguire) to say, "Shut up … just shut up. You had me at hello."
3. Get specific sooner: Specificity enables clarity (in yourself and with others), credibility, accountability and memorability. For example,  which statement would you remember?
• We put our members first.
• For your convenience, we're staying open on Saturdays.
Hint: The specific detail proves a general conclusion, not the reverse.
4. Provide mental pictures from the physical world.
"I still make coffee for two." ~  Zak Nelson whose wife had recently died
In descending order of memorability, notice this:
• blue
• ocean blue
• Mediterranean blue
5. Make unexpected comparisons: Bank fees are like financial wedgies.
Use Brevity to Make Life More Meaningful and Memorable:
1. Start a one-sentence diary, as Gretchen Rubin suggests. No matter how overwhelmed you get, you can take the time to capture a moment. Akin to noticing more when you carry a camera on an outing, knowing you will be writing about "my day" makes you more present during it. Less chance, perhaps, that your days will be forgotten, carved in sand.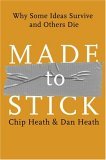 2. From billboards to retorts and headlines, notice the one-liners that stick in your mind, as you go about your day. Why did you remember them? Probably for one or both of these reasons:
• Innately vivid, perhaps evoking one of the five elements above.
• Relates to something that matters to you, either upsetting or uplifting.
Through these exercises you'll become aware of the power inherent in vivid brevity – and what's on your mind as you see which messages stick.