Nike invites us to join a million runners around the world, "for a worldwide 10K like no other."  And they invited celebrities to join them. There's a small catch.  "You need a Nike+

SportBand or Nike+iPod and Sport Kit" to run with them. You can't fault them.  They want you to buy their products of course.  But if their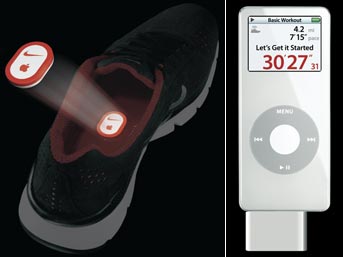 underlying brand is Just Do It, why require the gear?  Yes, it would be way cool to have the iPod sensor track when I start and stop and provide music. Yet why run alone?   Set a weekly time to run (or walk) with a friend or three and just enjoy the experience together – without the tech toys.
Also, Nike, to encourage even more people to check out your outdoor gear and to build goodwill, why not partner with local communities, at

least in the U.S.? And encourage people to, not only get out and run, but to walk and to bike?  Nike has gear for both, after all. And you want to be more inclusive. After all, most everybody want to get out and play with others.
In my small town of Sausalito and in other U.S. communities the feds are giving grants to for public education campaigns to encourage people to get out and walk, bike or run. That seems like the Way to Go to make this already viral campaign involve more people.  Plus, by partnering on local community campaigns, Nike encourages neighbors to find someone nearby for that exercise. Somehow the government concocted title for their project (a Nonmotorized Transportation Pilot Program) could use some naming sizzle from Nike. Thanks, Buzz Canuck.  On my wish list is a go4awalk for the U.S. Nike, interested in underwriting it?
In this slow economy, cities are strapped for cash.  Many would be open to companies underwriting imaginative public outreach campaigns tied to their events and other activities on everything from public safety to attracting visitors.