"Even people who are antisocial feel a need to be around other people for at least part of the day while they're working," says researcher Laura Forlano. That's why soloists bootstrapped into being a co-working space in Austin called Conjunctured. Working elbow to elbow around a table or in separate offices often means you are more likely to help each other than those who work alone, they found. Each space has its own personality
 and rules. Co-work space is now a burgeoning trend in a bad economy.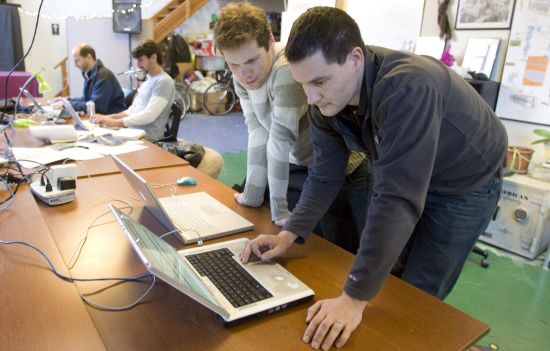 In New York there's the NewWorkCity a building with several digital businesses and space for soloists. 
Then there's several shared-space locations called Sunshine Suites. They have the upscale style and the security of a W Hotel, reports Allen Stern.
Over here on the Left Coast, Sasha Vasilyukvia, a writer, and her husband Roman Gelfer, a former equities trader, modified three floors for co-workers in San Francisco at Sandbox Suites. They also host seminars and other events at the site and let those who lease space do the same. I met Sasha via biznik.
Then there's casual Citizen Space – also in S.F.  And the Hat Factory, a funky 

space in San Francisco's Dogpatch has a live-work loft.  Three geeks live there and rent space to others during the day. Back in the 1970s in S.F. artists and city planners worked together to revise building codes to support the creation of safe live-work building codes and space in plentiful south-of-Market Street warehouses. Later Silicon Valley hatched their version.
Elsewhere are Office Nomads and Whitespace in Seattle, Nutopia Workspace in Lower Manhattan, Hive Cooperative in Denver and Indy Hall in Philadelphia.
There's also the Jelly approach to co-working in people's homes in more than 50 cities worldwide.
Co-working is now a global movement. Some will go green. Perhaps there's a space near you. A wiki and a directory show that most are in the United States. 
Consider creating a co-work space as a business to defray your costs of building ownership or rental – or join one with your kind of atmosphere, amenities, locale, price and peers.
Also, if you want to share work space with others or if you are looking for space for yourself or your team, visit SuiteMatch to find your match for office space.
Update: Via Springwise I discovered you can even rent desk space  – if you are in Britain – or start such a service if you work elsewhere