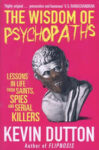 Ironically, both psychopaths and Tibetan monks detect deep emotions that are invisible to others. Psychopaths are much better at recognizing "those telltale signs in the gait of traumatized assault victims," notes The Wisdom of Psychopaths author, Kevin Dutton. Tibetan monks, steeped in meditative practice, are also especially adept at reading feelings that are hidden from the rest of us, Paul Ekman discovered. Ekman is the preeminent expert on lying and on the six universally expressed emotions in the face — anger, sadness, happiness, fear, disgust and surprise. Scarily, psychopaths score especially high on the Hare Self-Report Scale of psychopathy in seeing those core expressions, especially the ones that make us most vulnerable, fear and sadness, according to clinical psychologist who studies schizophrenia, Sabrina Demetrioff.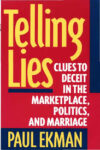 Another astounding finding was that, in lab tests, a Tibetan monk had no startle reflex reaction to "a gun being fired just centimeters away from the ear: the maximal threshold of human acoustical tolerance," reports Kevin Dutton. Paul Ekman and his co-researchers, Robert Levenson and Richard Davidson, concluded, according to Dutton, that "practicing a relaxed state of mind" is conducive to "keeping a cool head at one time or another."
Yet it appears that psychopaths don't need that meditative practice to stay calm under pressure and or to be inordinately observant, especially of weaknesses in others.Psychopaths feel little or none of the arousal reactions (heartbeat, sweat, blood pressure, etc.) that others have when viewing "a series of horrific, nauseating and erotic images," found Dutton. Like the monks, psychopaths have greater self-mastery of their emotions. Unlike the monks, however, they seem to be born with this capacity to neither feel nor react.
That may not be the most surprising conclusion from Dutton's book however:
Unlike our common impression of psychopaths as dangerous serial killers, and some are, others use their high-performing capacity to remain calm in stressful times to conduct surgery, lead soldiers or become sought-after CEOs. After all, as Dutton suggests, if you're having brain surgery, wouldn't you want someone who is not distracted by feelings and completely in control and concentrating on the operation? If your life were in danger on the battlefield, wouldn't you want someone who could coolly survey the situation and deeply recognize others' reactions, to determine the best way to rescue you?
Psychopaths' adept detection of vulnerability is one of their most potent skills.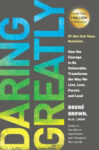 Ironically, the sharing of one's vulnerability with trusted others is one of the prime gateways to overcoming shame, according to the star of one of the 10 most-watched TED talks, Brené Brown. In Daring Greatly, she describes the paradoxical power of embracing our vulnerability and acknowledging our fears as a path toward being more courageous and connected with others. That means letting go of the need for certainty and control.
Clearly, Brown and Dutton approach fearlessness from very different yet well-researched perspectives:
· Dutton shows that psychopaths are born with fearlessness that enables them to remain cool and capable, with a lack of empathy and thus capable of serial murder or successful surgery.
· Alternatively, for the rest of us mortals Brown, a longtime researcher on the effects of shame (something psychopaths don't feel) sees the path toward fearlessness through owning our vulnerability. In so doing we become willing to take greater risks and be more deeply connected. These are very human benefits that make our lives meaningful yet make no sense to psychopaths who are, by nature, risk-takers and often expert manipulators of others, even if on the surface they appear to be charismatic and even visionary leaders or collaborators.
Here are some more lessons from Brené Brown's highly popular book Daring Greatly:
Live a More Courageous, Fulfilling Life With Others
"Vulnerability sounds like truth and feels like courage. Truth and courage aren't always comfortable, but they're never weakness." That's one of my favorite insights from Brené's book.
Following are more news-you-can-use excerpts from Daring Greatly. The titles are mine:
The Benefits of Vulnerability
"Vulnerability isn't good or bad … [It] is the core of all emotions … To feel is to be vulnerable. To believe vulnerability is weakness is to believe that feeling is weakness. To foreclose on our emotional life out of fear that the costs will be too high is to walk away from the very thing that gives purpose and meaning to living."
Supporting Their Better Side Is More Productive Than Cutting Them Down to Size
The topic of narcissism has penetrated the social consciousness enough that most people correctly associate it with a patter of behaviors that include grandiosity, a pervasive need for admiration, and a lack of empathy. What almost no one understands is whatever level of severity in this diagnosis is underpinned with shame. Which means we don't "fix it" by cutting people down to size … Shame is the cause of these behaviors, not the cure.
Being Open With Everyone Is as Fear-Based as Shutting Everyone Out
Vulnerability is based on mutuality and requires boundaries and trust. It's not oversharing, it's not purging, it's not indiscriminate disclosure. Vulnerability is about sharing our feelings and our experiences with people who have earned the right to hear them.
Shame vs. Support: What Behaviors Does Your Company Reinforce?
The most significant problems that everyone from C-level executives to the front-line folks talk to me about stem from disengagement, the lack of feedback, the fear of staying relevant amid rapid change and the need for clarity of purpose. If we want to reignite innovation and passion, we have to re-humanize work. When shame becomes a management style, engagement dies. When failure is not an option we can forget about learning, creativity, and innovation.
How Relationships Burn Up
When I talk with couples, I can see how shame creates one of the dynamics most lethal to a relationship. Women, who feel shame when they don't feel heard or validated, often resort to pushing or provoking with criticism ("Why don't you ever do enough?" or "You never get it right."). Men, in turn, who feel shame when they feel criticized for being inadequate, either shut down (leading women to poke and provoke more) or come back with anger.
What Naturally Brings Us Closer
Reading Brené's book and seeing her speak was to experience congruence between her presence and her message. That trait is both credibility building and boosts her connection with others.
One of the most beguiling signs, to me, of individuals who are daring greatly are those who, as Peter Guber advocated in Tell to Win, create purposeful narratives that pull us into the story, adapting it and making it "ours" so we want to share it with others.
To do that we must be present, open, connective listeners, as Rosabeth Moss Kanter describes so well in her Harvard Business Review column "Why You Need Charisma": "His magnetism isn't in the stories he tells; it comes from the intense way he listens to other people's stories and then draws them into an activity connected to that story."
An overwhelming majority of both women and men in my audiences where I spoke agreed that men are most likely to read The Wisdom of Psychopaths and women will be more inclined to read Daring Greatly. What do you think?
Furthermore, I heartily recommend reading each of these books as well, with themes that complement the ideas in Daring Greatly and The Wisdom of Psychopaths. I have read them all, cover to cover, earnestly underlined many places and attempted to apply their lessons to my life, as I hope you are inspired to do too:
· The (Honest) Truth About Dishonesty by Dan Ariely
· It's Always Personal by Anne Kreamer
· Split-Second Persuasion by Kevin Dutton
· Find Your Strongest Life by Marcus Buckingham
· The No Asshole Rule by Bob Sutton
· Out of Character by David DeSteno and Piercarlo Valdesolo