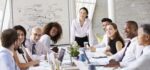 First Ask Rather Than Tell
"Have you or a friend, or family member ever had an MRI or CT scan?"
Asking that three-part question pulls listeners into relating that topic to their life. Sam Horn, author of Got Your Attention?, suggests that such questions are more likely to spark interest and engagement. Why? Because many of us know at least one person who has had one of those medical procedures and we are stirred to feel and to think about that situation as we respond to the question.
That approach enabled the successful manager of medical facilities that offered these procedures to spark a dialogue rather than a monologue, otherwise known as an elevator speech.
As you know, first-hand, talking at someone, especially about your own products or work, is akin to pushing your topic at them rather than pulling them in so they want to hear more.
That's why Horn recommends that you be prepared to ask a question, rather than make a statement when others ask, "What do you do?" The most alluring questions are ones that enable others to recognize, "the real-world results of what you do that we can see, smell, taste, or touch," she writes.
Avoid more restrictive "two-part" questions that inadvertently narrow their capacity to identify with the situation you want to discuss. Asking, for example, "Have you ever had an MRI or CT scan?" can create a "conversation cul de sac" suggests Horn.
Enable Peers To Learn From Each Other
G2G (Googler-to-Googler) is Google's popular employee program, "where in-house experts train their peers on everything from job-related topics to unrelated topics, such as a Bollywood dance class" notes Michael Lee Stallard in Connection Culture. Not only does this approach increase shared learning and camaraderie, it enables individuals to experience both roles – as the expert and as the student.
These traits boost the likelihood that people of diverse experiences will bond over sweet spots of shared interests that may lead to discovering ways to co-create, cross-refer or otherwise support each other.
As The Progress Principal co-author, Teresa Amabile found, such behaviors foster a culture where work feels more meaningful and innovation is more likely. One of the most effective ways to facilitate peer-to-peer learning and other cooperation in an organization is by creating an aptly designed Intranet or "enterprise social network" through which employees can easily discover each other.
Pull Colleagues Into to Being a Valued, Visible Part of Our Community
You can enjoy an untapped opportunity to stand out in your profession or market if you create what Frans Johannson in The Click Moment called a "hook" on which others can hang their relevant insights around your shared interest, thus generating value and visibility for all participants. One relatively easy way to create such a hook, digitally, is to launch a member-based web site where anyone can join for free. Each week offer a pithy, relevant tip, tied to your core topic, citing one or more other experts, and invite others to share their related tips on the site. While anyone can view the tips, only signed-in members can contribute tips and vote for their five favorite tips for that week. Members can change their vote anytime during the contest period so member interest rises to visit the site more often and see what's most popular right now
That's because the most popular tips rise to the top of the page in real time. You have a regular media hook when the top five contributors and their tips are announced each week, with you as a part of our story. Hint: a collective mutuality mindset multiplies opportunities for all participants
Discover other ways to Stand Out by pulling others closer via your breakthrough idea and building a following by reading this book by revered marketing and branding strategist, Dorie Clark.