… on a big screen in a theatre – as part of a short-film before the feature movie.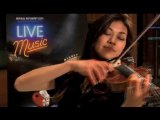 For the first time anyone can create an animated cut on their computer with tools provided by Intel, Facebook, Dell and others in this Mass Animation project launched today.  The crowd votes on submissions.  Winners get moments of fame via on-screen credit and $500. 5,586 people have already signed up.

At Facebook, see the storyline of the short – called "Live Music," 
100 animation shots and images to get started. "The first scenario features a rock 'n' roll guitar that falls in love with a classical violin in a music store, only to find that the hot tune he found so alluring had come instead from the cell phone of the store owner."  Sam Ford probably saw this kind of campaign coming. 
What tools could you offer would-be customers to involve them in using and/or improving your product or service – and attract meda coverage as this crowdsourcing contest will enjoy for many months.