To jumpstart your new year in these roiling times, consider this: "When the economy tanks it's natural to think of yourself first. You have a family to feed and a mortgage to pay. Getting more appears to be the order of business. It turns out that the connected economy doesn't respect this natural instinct. Instead, we're rewarded for being generous. Generous with our time and money, but most important generous with our art." ~ Seth Godin 
Here's my three-step approach to put that notion into practice in this ever more Connected Age (please tell me what you think):

1. Discover your main talent (Marcus Buckingham) and re-design your work and life to use it more often.
2. Constantly keep an eye out for problems and opportunities in your profession, market  – or in your life.
3. Recruit the mix of people who can collectively seize that opportunity or provide the solution to that problem.
In short: We'll get better at methods that create more value, working together  – as a satisfying way of helping each other. That may be the most efficient and satisfying way to generate more value for our work and more meaning in our lives.
With the right team we can accomplish something greater with others than you can alone.  
Reminder: To be most helpful when being generous, adopt the Golden Golden Rule: Do unto others, not as you would have done unto you, but rather as they would have done unto them.
Two Predictions: 2010 will be the year of…
 1. Vastly increased collaboration everywhere. We may stumble but we will pick ourselves up, be more daring, supportive of strong partners –  and we will try more often, experimenting until we get it right: Right methods + right team.  Look for Peter Sims' next book, Little Bets.
 2. Quickly-formed project teams.  Some teams will bond and seek more projects. Others will go bust, most likely because of the power of the weakest link.  (Motivation to participate dissipates when one person does not pull his weight and Rules of Engagement were not in place, upfront, to include the rule for graciously booting non-performers off the island.)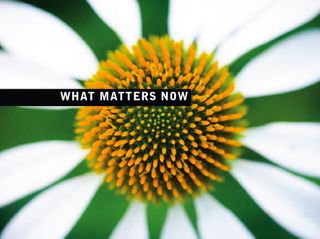 Oh and you may want to download What Matters Now, Seth's free 82-page e-book with contributions from some 70 bright contributors, from Wired editor, Chris Anderson to Eat Pray Love author Elizabeth Gilbert and Dan and Chip Heath, authors of Made to Stick. Then learn how to lead online communities (with pithy advice from those who are) in another e-book created by J.C. Hutchins – Nick of Time.